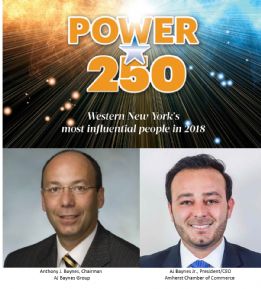 Anthony J. Baynes, founder and chairman of the AJ Baynes Group and his son, AJ Baynes Jr., president and CEO of the Amherst Chamber of Commerce, have been named to Buffalo Business First's "2018 Power 250". The "Power 250" is an annual list of the most influential and powerful people who live and work in the eight counties of Western New York. Anthony Baynes has made this list seven years running (2012-2018), and this year is joined by his son AJ. This recognition is a tribute to the dynamic leadership, extraordinary work and broad vision Anthony and AJ Baynes demonstrate within our community.
Chairman Baynes, a member of the Board of Trustees of the New York State Lawyers' Fund for Client Protection, has many other credits to his name, including an award from the Buffalo Niagara Business Ethics Association in 2013. In addition, Baynes serves on several other professional boards including: The Seneca Commission for Economic Development (SCED), a division of the Seneca Nation of Indians, the Independent Health Association Board of Directors, the Niagara Frontier Transportation Authority Board of Commissioners and the Dent Neurologic Institute Board.
As a developer, Anthony Baynes has undertaken various development projects including the recently opened Hotel at Batavia Downs & Gaming, a four star hotel with 84 luxury guest rooms and suites; and the conversion of the Corn Exchange building in downtown Buffalo, an upscale commercial and residential property renamed 100 South.
AJ Baynes Jr., became President/CEO of the Amherst Chamber of Commerce on Sept. 5, 2017, taking over the role from the organization's past president, Colleen DiPirro. Baynes is the former chief of staff for New York State Senator Patrick Gallivan and recipient of the 2016 Business First 40 Under 40 award.